Chestnut Holdings of New York is a family-owned real estate investment and property management firm with a long track record of successful, responsible and reliable management. Chestnut is a hands-on owner-manager that acquires, manages and improves multifamily properties throughout New York City.
Chestnut purchased its first building in the Bronx in 1997, and still owns that property today – a testament to the firm's long-term commitment to enhancing and effectively managing its properties. Chestnut also works to make a positive impact on surrounding neighborhoods by providing cleaner, safer housing options and reliable service to tenants at reasonable rental rates.
News and Updates
Bronze in the Bronx- Visually and culturally enhancing the neighborhood with plaques
Bronx Borough President Lauds Chestnut Holdings at State of the Borough Address-

Full Speech
College of New Rochelle Unloads South Bronx Building – Bronx Times
Students proudly discuss their art and experience during the six-month project between Chestnut Holdings and DreamYard –

MS95
Bronx Students Display Art for Local Apartment Building – The Bronx Chronicle
P.S. 95 Students Unveil Artwork in Sheridan Avenue Apartment Lobby – News 12 Bronx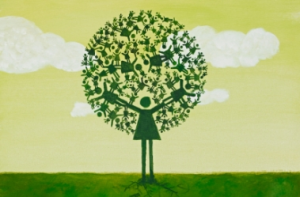 Letters From Our Tenants
At Chestnut Holdings, we value our relationships with our tenants and are dedicated to building and preserving our tenant communities. See some of the wonderful letters we have received from our tenants over the years expressing appreciation for various matters.

Bronze in the Bronx
Chestnut Holdings is dedicated to visually and culturally enriching our Bronx neighborhood. One project we have been working on cultivates environmental awareness by designating a specific tree or plant name and installing a custom made hand crafted bronze plaque on the property façade. Each plaque displays an artist's hand drawing of the tree along with a brief written description that includes related botanical, practical and historical content. Our intention is to deepen our understanding and connection to nature and weave it into the daily life of our community's residents.
Chestnut and Bronx is Blooming
Residents of the Bronx took part in Claremont Park Day as Chestnut Holdings partnered with The Bronx is Blooming and The NYC Department of Parks and Recreation to engage the community through environmental stewardship and educational activities. The event brought out close to 100 volunteers who enjoyed a great day of helping to beautify and restore Claremont Park. The New York Public Library also joined to encourage attendees to sign up and visit their local branches.
Chestnut and DreamYard Art Ceremony
Students from P.S. 95 worked with DreamYard's art instructors to create an art display that was unveiled in the lobby of Chestnut's building at 1504 Sheridan Avenue. We held a ceremony for the culmination of the six-month project and discussed with the students how the art reflected people and images in the Bronx community that were memorable to them. The art will continue to hang in the building lobby for all residents to enjoy.
DreamYard Art Workshops
During a recent art workshop, DreamYard instructors worked with Chestnut residents to create screen prints. The free workshop was held in the lobby of Chestnut's building at 1504 Sheridan Avenue, and each participant left with his or her own masterpiece!
Shalom Aleichem Houses
In 2013 Chestnut acquired the Shalom Aleichem Houses, three distressed properties made up of 15 buildings, in Van Cortland Village in the Bronx. This gallery provides a glimpse of the beautifully renovated complex in recent months during both the Fall and Winter seasons.